Diasec ?
The digital art of Jax Exclusively on Diasec
What is Diasec® ?
The advantages of Diasec®:
With Diasec®, the original Artwork side is affixed chemically behind transparent plexiglass and finished with a back layer.
Diasec® adhesion takes place without glue by creating a chemical reaction between liquid components.
The Diasec® adhesion method is completely dust-free, without air bubbles and other glue residues. Jax Artwork is protected completely by the plexiglass, so that scratches and dents are almost non-existent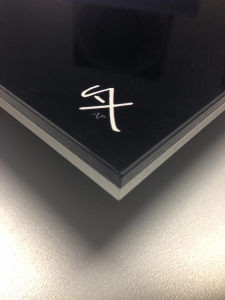 Patented:
Diasec® is patented and there are only a few licence holders in Europe.
The patented Diasec® method is the only method which can offer a guarantee for years and which has been recognised by various museums throughout the world as one of the options for enabling photographic images to resist the ravages of time.
There are still some false Diasecs on the market which cannot offer this guarantee. As they are not a patent holder they use different adhesive methods.
Diasec is a registered trademark for a process used for face-mounting prints like photographs on acrylic sheets. The process was invented by Heinz Sovilla-Brulhart in 1969.

Because of the different light penetration and refraction of acrylic compared to normal glass, the colours are more brilliant and the image sharper than compared to standard glass in a picture frame.[citation needed] A Diasec mount is usually of a high gloss finish. Because the print is glued to the acrylic glass, the result is a completely flat mount of the image.
The print is also resistant to ultraviolet (UV) light because of the properties of acrylic glass.
source : Wikipedia
Process
The process aims to mount the print without air bubbles or smears. The image is face mounted and bonded to the acrylic glass with a gel silicone sealant which acts as a glue.
Normally the print is placed on a carrier at the backside. This is usually dibond, a composite plate of aluminium and plastic. Aluminium or other materials are also possible. If the print has to be backlit, translucent materials are necessary.