For over 30 years, Jax has been specialised in experimenting with fractal artwork.
This has lead to several inventive collections & multiple exhibitions in galleries and fairs around Belgium.
The inspiration for his creations comes from the world of wonder and amusement.
Angels, fire, illusions, ... or even ordinary everyday objects; nothing is off limits.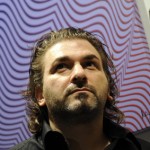 Inspiration can come from everywhere (or everyone)
The art itself has also evolved enormously.
From the early days of creating ..... with his Atari-computer, Jax has perfected the process and the quality of his work with the latest technologies.
He has also found that Diasec is the canvas of the future. The results are staggering !
Why the fascination with these magical subjects you ask ?
Since his youth, Jax (real name Jacky Kahan) has been interested in the world of magic.
Jax is a self-thought, close-up card magician and performs professionally on a regular basis.
He also started his own booking agency for magicians and he has been collecting rare magic books from which he draws a lot of inspiration for his works.